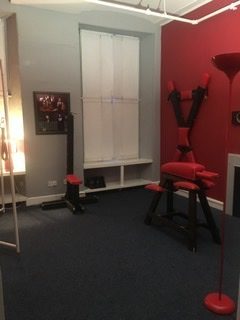 What you can expect
Our dungeon is spread over two floors and three commercial units. Floor one has two units and floor two is one large unit.
The first unit (unit 1L) is self contained with a connecting internal door to unit 1R. Here you will find the Red room, commically named after the 50 Shades red room due to the matching red furniture and red walls.
Our second play room 'The Medievil room' is decorated with Cravats, and other historical torture devices. This unit also has its own bathroom, and is styled uniquely to benifit people who enjoy heavy play.
Both rooms have different equipment, see our equipment page for more details.
Our next unit is 1R which is connect to 1L. Here is predominantly used for classes, socialising aftercare etc. But this room is also available for play. With 10ft tall dark smoke mirrors, erotic art, spanking benches, suspension points, cages and more. this unit is fun and comes with its own bathroom and shower.
For full equipment and room detail, see our equipment page.
Lastly we have the 2nd floor unit, this is made up of bedrooms, open dungein space, the medical room, littles room, school room, church and much more. It's also where we keep the Sybian, F-machine, Tremblr and other fun goodies. Again full details are on our equipment list.