Equipment by Unit / room:
Please note, equipment is subject to change with no notice please contact us for specific requests, these may come with an additional surcharge.
Unit 1: £30 per hour
The Red Room comes with various stocks, St Andrews Cross, sex sling and frame, breeding bench, tie chair, Commode / Queening box. It also has its own Elecro play kit, and various impact toys.
The Medieval room has the trampling bench, sex swing / suspension pod, pilory, black gym pommel converted into a spanking bench, over door sex swing (secured in place), suspended chains for tying to, wood cage and various exciting pieces decorating the walls like the Cravat.
This unit also has its own self contained toilet.
Unit 2: £30 per hour
The Social unit is made up of one large room connected to a bedroom, the reception, and a kitchen / dinning room with adjacent bathroom and shower. We foresee this unit being used for talks, classes, some private hires and comes with equipment.
There are two vaulting horses, a spanking bench and a large metal cage. In addition there are three suspension points and a dancers pole fitted.
All the equipment and suspension points are set with large floor to ceiling dark smoke mirrors.
This would be ideal for rigging, photography or simply the sheer humilation of forcing a bottom to watch whats about to happen. The only limit is your imagination.
We also store the yet to be completed confinement case, over 6ft in legnth it's perfect for those who want to feel restricted. Eventually it will be fitted for breath play etc too.
Unit 3: £40 per hour
This is aproximately 1250 square ft, it has six dedicated play rooms, a smoking room and other areas that are used for play as well as gender neutral bathrooms and a shower.
Medical Room filled with medical goodies such as old surgons instruments and gas masks. It also boasts a treatment bed, a fold out massage bed, a massage chair and our specially modified fetters chair.

Originally a 1984 made chair for dental work, we have perverted this motorised wonder and swapped its seat for a Fetters made custom seat with stirrups. We will let your imagination do the hard work of the possiblities.
There's various toys like the F-machine Pro-3, the Tremblr (penis milker) and the Sybian all live here and are concealed with the beautiful medical privacy screens.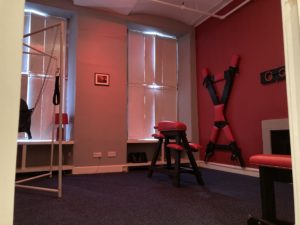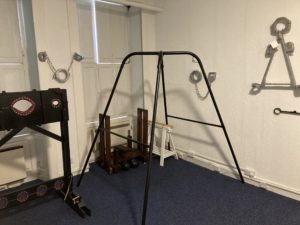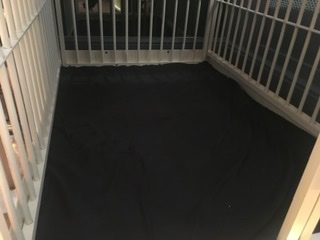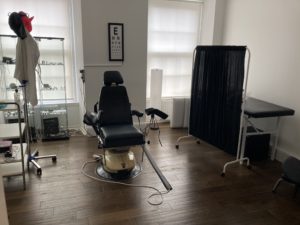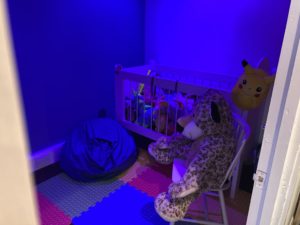 Littles Room is covered with soft multi coloured anti fatigue mats, we have a custom-made white painted ABDL style cot. Complete with stuffies, bubble sticks, chalk board wall, and colour changing light bulbs. This room also has a rocking horse, games and is great for any littles looking to escape and play.
School room is a strict room, with its lift lid period desks and chairs, chalk board, school master outfit, tawses, and a cabinet filled with school books. Will you hear ringing in your ears from the bell as you write lines, or will you be coming away with lines on your ass for disapointing the teacher?
The Church Room or The Kirk has a church inspired tao chair, wall mounted fixing points in a cross shape, removable lectern / pulpit, church pews, hassocks / kneelers, bibles, vestments, nuns outfits and set in a room with glass walls and a curtain for privacy.
The Bedroom set with a kingsize bed, a spanking bench and is great for a more homely feel. Although this room is also glass walled with curtains for those nights where you can choose to be watched or not.
The Open Room is home to our Fetters wheel, modified with a stronger A frame (once fitted with a motor) and we have been restoring this to its former glory by taking time to keep it true to its origins.
Alongside the wheel we have a St Andrews cross made locally by Eminence who makes goregous furniture (feel free to contact their page here). This once free standing frame has now been bolted to the floor to ensure customer safety but retains the appearance of being free standing.
We also have a black spanking bench and black pommel, both great for bending your bottom to your will.
And lastly we have the 8ft cube scaffolding frame, designed and made by TwistedMinister (available to buy custom frames from £400 new) this frame will take a ridiculous amount of weight and punishment.
All units have differnt unique selling points depending on what you are looking to do. So if you have a question, please feel free to ask us.
*please note, as much as we wish we could list every toy, flogger, anti fatigue mat, and go into detail of our toys, we would fill the website just on those. Please just know, that toys are available but during covid there is more restrictions and less availablity for safety and health*